Coronavirus Northern Ireland: Minister updates Assembly on the state of the economy
" This is the most serious health and economic crisis any of us has ever lived through and Northern Ireland needs bravery, compassion, support and leadership to get through it. "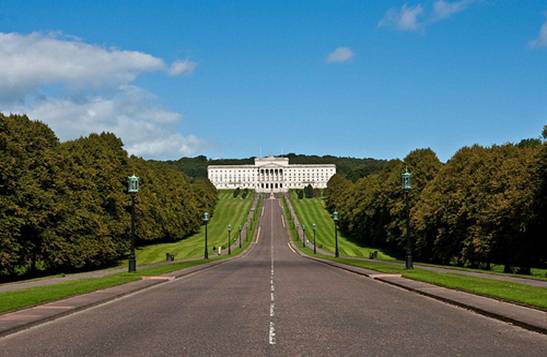 That was the key message from Economy Minister Diane Dodds as she updated MLAs on the current state of the Northern Ireland economy in the face of the Covid-19 pandemic.
In an Oral Statement to the Assembly, the Minister said, "Our economy is suffering, our businesses are under extreme pressure and people are not only living under the threat of the virus but also the threat of losing their jobs.
"The impact is on real people and real families. People are concerned about how to put food on their table.
"The virus and the necessary measures that have been put in place to contain it, have had a devastating impact on economies around the world, and Northern Ireland is no exception. Our economy will suffer, but we will bounce back."
She thanked those working on the front line and urged every citizen to act responsibly, saying, "Follow the advice, stay home if you can and help medical staff by not acting recklessly and adding to the burden on our Health Service.
"Business owners must too follow the advice – if your work is essential and you are remaining open then make sure that you take the necessary steps to protect your workers."
The Minister said it is her priority to mitigate the impact on our economy.
She emphasised that help is available and highlighted measures – introduced by both Westminster and the Executive – to support businesses and employees, including the Job Retention Scheme, the freezing of business rates and the Coronavirus Business Interruption Loan Scheme.
She then updated MLAs on the small business grant schemes announced last week. "The small business grant schemes will inject some £370 million to support tens of thousands of our most vulnerable businesses to help with cash flow.
"The administration of a scheme involving so many payments was never going to be straightforward. 
"We are endeavouring to deliver in days something which in normal circumstances would take months. In making this operational we are ahead of where our counterparts in England, Scotland and Wales are at this point.
"I can now update the House that the ratings system will be used as the mechanism to identify eligible businesses in Northern Ireland. 
"Payment will then be made directly into the bank accounts of those businesses whose details are currently available. Last year's rating list will be the basis for payment.
"I want to make sure that payments are made directly to businesses, for the benefit of businesses.
"Currently, we hold bank details for just over 9,000 small businesses who qualify and obviously, payment can be expedited to those companies. Our focus will be on getting this out as quickly as possible.
"I am pleased to report that an online web portal will be set up this week for eligible businesses – for whom we do not hold bank details – to register.
"Our immediate focus has been on putting in place a system for processing the £10,000 grant. However, I can assure colleagues that we are also working hard to put in place processes for the £25,000 grant for our hospitality, tourism and retail sectors as soon as possible.
"I hope to be in a position to provide an update on that to you in due course," she continued.
"I am also seeking to identify any gaps in the measures that have been announced both nationally and in Northern Ireland and I hope to be able to be in a position to respond further to meet the particular needs of our businesses here; particularly in relation to self-employed people, clarity for those on zero-hour contracts and for those businesses that cannot avail of some of the support packages announced."
The Minister thanked those businesses that have stepped up to the challenge by diversifying to support the effort to tackle the impact of Covid-19.
She said, "I have heard many of the challenges that business is facing, but I have also been inspired by the determination of people. Businesses who have offered help in sourcing things. Individuals who have offered their help in looking after people or providing vital services.
"Companies who have said they can adapt their production lines to produce ventilators or personal protection equipment. Business is doing what business does. It is reacting and innovating. It is stepping up."
In a wide-ranging speech, the Minister said higher and further education institutions have convened a number of measures in order to manage and deal with the pandemic, such as the establishment of major incident teams and the activation of contingency measures. 
She said, "I recognise that we are facing very challenging times and welcome the positive response."
The Minister welcomed the measures further education colleges have made to continue to deliver for their students through digital learning and by maintaining college administrative processes to ensure that student support services including Education Maintenance Allowance (EMA), FE Grants and Hardship Fund continue to be paid.
The Minister provided the Assembly with reassurance on energy and the supply chain, saying, "My officials have been working closely with energy's critical national infrastructure providers on a daily basis to ensure that their business continuity plans are sufficiently resilient to mitigate the risk of interruption to services.
"One of our key priorities over the coming months will be to ensure that there is food on people's tables. The agri-food sector has proven itself extremely resilient in the past, having overcome numerous challenges and I have every confidence that our farmers, processors and retailers will continue to put food on our tables.
"My message to people is simple. Our food supply chains are strong. You do not need to panic buy or stockpile. This only hurts other people. Be sensible."
The Minister added, "None of this is easy. But working together for a common goal, we can, and will get through this."
Short URL: https://newrytimes.com/?p=69570
Posted by
NewryTimes News
on Mar 25 2020. Filed under
Coronavirus
. You can follow any responses to this entry through the
RSS 2.0
. You can leave a response or trackback to this entry