Breaking Brilliant: Why Breaking Bad is a must watch before you die
Warning: This article contains some serious spoilers!
It is with a heavy heart that I finally get to write a look back review of Breaking Bad. I felt it would only be right to do so when the AMC show ended for good so as not to speculate the ending and engage in some sort of self torture.
The humble chemistry teacher Walter White's story has gripped the nation after becoming wildly popular in the USA.
Series one introduces us to the cancer stricken Walter White, chemistry buff with a comfortable Albuquerque life with his pregnant wife, Skylar, and son, Walter Jr. Walt goes on a ride-along with DEA brother-in-law, Hank where he eyes a former student, Jesse Pinkman, in the middle of a crystal meth drugs bust.
Walt manages to convince Jesse to work with him to make meth in order to make enough money to pay his hospital bills for his cancer treatment and to leave his wife and children with enough money to live comfortably.
This already conveys the anti-hero character of Walt, which is one of the reasons the show is so intriguing. Do we love or hate Walt, or do we love to hate Walt?
As the series progress we see Walt continue to justify his, sometimes heinous, actions by claiming everything he does is 'for the family,' an exhausted line by the new criminal. However, Walt seems to continually lose emotion for his crimes. Has the one time soft teacher become a hard criminal?
Jesse's character is almost equally as complex in its development and Aaron Paul's performance justifies his two Primetime Emmy awards for his role.
Pinkman's heartbreak for the loss of his girlfriend, Jane, to his stint in rehab, relapse and struggle with his guilt and attempts to make things right all show the very different aspects of Jesse's world and the complexities life as a drug dealer involves.
The different sides of Jesse make him a character you love and someone you want to succeed and leave the vicious circle of crime and drugs.
The supporting cast are also extraordinary, namely Anna Gunn, who plays Walt's wife, Skylar, and Dean Norris who plays Hank. The audience's reaction to Skylar is somewhat intriguing as she is clearly a mother first who tries to protect her children, yet she is widely criticised, and to an extent, hated by the majority of Breaking Bad's audience.
This has left the shows creator, Vince Gilligan, baffled. However, it seems to me that since audiences had been so captivated and accepting of Walt in series one, before the dislike of his evil side set in, that Skylar was just as bad as any other criminal that came in the way of exposing Walt.
Whereas Dean Norris is possibly one of the most likeable and well respected characters in the series. At certain points in the plot Hank comes dangerously close to uncovering his brother-in-law's antics and Gilligan seems to toy with our thoughts and certainly keeps our pulse racing.
Hank's death was definitely one of shock and heartbreak, but somewhat fitting as he died doing the job he was so dedicated to, after finally discovering, at long last, exactly who Heisenberg is.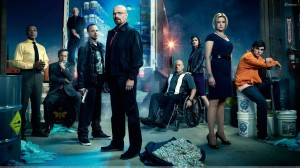 In my opinion Vince Gilligan is one of the greatest brains, and writer's, in television today. Not only has he created arguably the best TV show since The Sopranos but he has brought it to life in the most intriguing, glued to your seat, heart racing way imaginable.
The subtle details which allow viewers to make their own connections with characters, the playful music used which lightens the often sinister atmosphere and the meticulous detail and respect for the science behind the making of meth, which Bryan Cranston brings to life so perfectly.
The way Walt protected Jesse until the very end conveyed that through everything an ounce of humanity remained in him and how he inadvertently sacrificed himself for Jesse, and in a similar way to Hank, but morally different, died doing something he loved.
The juxtaposition of the two characters creates a wonderful balance of good and bad that was so prevalent throughout the five series.
Ultimately, the depiction of heartbreaking scenes of a man facing cancer to the hardened criminal who seems to have lost his scruples is a must watch before you die. The way Walt left his final mark on science in the final scene seemed such a fitting and perfect finale for the man who put his life on the line for the things he loved, science and most of all, his family.
Short URL: https://newrytimes.com/?p=35371
Posted by
Newry Times News
on Oct 18 2013. Filed under
Community
,
Features
. You can follow any responses to this entry through the
RSS 2.0
. You can leave a response or trackback to this entry