'Wilson's insults and exaggeration no substitute for facts and figures' – Murphy
Sinn Féin MP Conor Murphy has accused Stormont Finance Minister Sammy Wilson of using insults and exaggeration to deflect from his inability to face economic reality.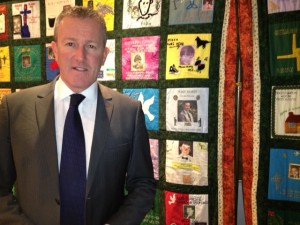 Speaking to Newry Times, Murphy said, "Sammy Wilson's promotion of the union with Britain is a legitimate political position to adopt but he should do it by presenting the argument with facts and figures, not by insults and exaggeration.
"Mr Wilson's latest foray into fantasy economics was his inflammatory and insulting accusation that the Irish government is 'stealing UK taxes'. He then – as he regularly does – grabs figures out of the air to support his penchant for exaggeration.
"The Finance Minister's claim that the Irish government obtained a £7.9 billion loan from Britain is way off the mark.
"In fact a law enacted in Westminster to give effect to the loan limited any lending to £3.2 billion (€3.76 billion), of which £2.42 billion (€2.85 billion) has so far been released and due for repayment in 2019 and 2020. A simple financial contractual transaction between two parties!
The Sinn Fein MP continued, "While it is welcome that the G8 leaders will be discussing tax evasion and 'aggressive' avoidance in Fermanagh over the coming days, Sinn Féin has already initiated procedures to examine the tax regime in the South where Pearse Doherty TD has led the call for tax avoidance to be addressed in the Dáil by having a sub-group of the Oireachtas established to examine these issues. Sinn Féin's position is quite clear – ALL tax avoidance loopholes should be closed.
"And if Sammy Wilson wishes to retain any credibility as a Finance Minister then he should also be demanding transparent and accurate statements of all forms of revenue generated and expenditure in the north of Ireland so that we can devise an economic strategy focused on the specific needs of this region.
"The economic package negotiated with Westminster by Martin McGuinness and Peter Robinson is a welcome intervention and will assist us in developing the much-needed infrastructure which is required to stimulate economic growth.
"But it is no substitute for a factually based discussion on the best economic model to build financial sustainability on this island in the long term. No amount of political posturing can disguise the exaggerated fantasy economics promoted by Sammy Wilson in his attempts to support continued fiscal control over our affairs by a British Chancellor.
Murphy added, "Any objective analysis of British fiscal policy will expose that it is always drawn up with the selfish interests of the island of Britain at its core – any beneficial effects on the North of Ireland are only incidental.
"It is time we had a proper debate on the potential of constructing an island economy which would be within the control of politicians elected by and answerable to the people of this island."
Short URL: https://newrytimes.com/?p=32646
Posted by
Newry Times News
on Jun 26 2013. Filed under
Politics
. You can follow any responses to this entry through the
RSS 2.0
. You can leave a response or trackback to this entry