Newry Times meets: St. Paul's Manager Martin O'Rourke ahead of MacRory Cup final
Posted by
Newry Times News
marketing.newrytimes@gmail.com
Friday, March 15th, 2013
Community
,
Sport
St Paul's Bessbrook find themselves on the cusp of a great and alluring challenge in the guise of the MacRory Cup final to be played in Armagh's Athletic Grounds on Monday 18th March against St. Patrick's Maghera. The south Armagh High School are to contest the final of the prestigious and illustrious competition that has traditionally been exclusively for the grammar schools since it was established in 1923. The Bessbrook boys have not been found wanting since their McCormick cup success late last year and have proved that they are fit to play against any team in the country. They sent shock waves across the GAA fraternity when they dispatched of their close neighbours in the quarter final – who have won the MacRory cup on 5 separate occasions 1954, 1959, 1964, 1987 and 2006 – The Abbey CBS, Newry. Behind this team of young stars are two very influential men, Messrs John Rafferty the coach and Martin O'Rourke the manager. Both of these men have been involved with the Armagh senior squad over the past two decades as players and John was part of Joe Kernan's backroom staff as well as being a player of some note. Martin O'Rourke was a dogged, determined player in his playing days in the orange and white of Armagh, a man who won a lot of breaking balls around the middle of the field and was never afraid of the tackle, traits that are obviously rubbing off on his young charges from St Paul's. Here, the Dromintee man talks to Newry Times' Seán Ó Sirideán about the meteoric rise of the St Paul's team and of his immense pride at being involved in such an historic time for the Bessbrook School.
Seán:
First things first, this is some achievement for St Paul's in their first year in the MacRory Cup, you must be immensely proud of the lads?
Martin:
That goes without saying. The effort and attitude that these boys have shown this year are a credit to themselves and for this alone these boys deserve great credit. Regardless of the result on the 18th of March the entire school will always remember how this group of young men have represented us all.
Seán:
You have some excellent players on the panel, some would say it has almost become a breeding ground for future Armagh senior players (Ciaron O'Hanlon already being on the senior panel) and the likes of Blaine Malone, Caolán McCullough catching the eye but the list goes on, the quality from number 1 to number 29 is quite special, a great sign for the 18th March?
Martin:
It is always dangerous to talk about young players and what they are going to do in the future, it puts unneeded pressure on them. Who knows what is going to happen next year or next month for that matter. What we do know is that we have quality available to us throughout the squad and not just the players that start for us. Of course people will talk about the eye-catching scores but the real strength of this team is their willingness to work for each other. They trust each other and know that if they mistime a tackle or misplace a pass a teammate will be waiting to cover for them. A lot of teams and players pay lip service to the terms "teamwork" and "never-say-die" attitude but these boys exude these qualities in abundance.
Seán:
Does the team, yourself and John take some pleasure in the fact that they are not recognised in terms of pedigree in such a prestigious competition such as the MacRory cup? We have all seen the banners from the schools' supporters at the semi-final exclaiming 'We are only a High School'. It must be a form of motivation to show that St Paul's are as good as any grammar school, not just in educational terms but in GAA circumstances also?
Martin:
I think this has been overplayed slightly by people outside our group and I would be extremely surprised if every other coach/manager in the competition did not sit up and take notice after we defeated Enniskillen in the first match of the group stages. I know the detail and work that our coaching staff goes into when researching opposition teams and I do not for one minute believe that other team managers are not fully aware of the threat that we pose or underestimate us. What supporters of both our own school and opposing teams cheer about adds to the occasion and indeed the atmosphere at both our matches post-Christmas has been hair-raising. St. Patrick's, Maghera are also a non-selective school so perhaps we'll need to come up with a new angle to get the boys motivated. On a serious note, our boys believe that they are as good as anyone, they are in a MacRory Cup final with the opportunity to make history, what other motivation is needed?
Seán:
How are you preparing the team for this massive game on the 18th March? Is it hard to keep their heads level and their feet on the ground? You and John have been there and seen it all before with Armagh, you must be trying to give them lessons on putting things into perspective?
Martin:
The one thing we stress to the boys is to enjoy every single moment of the build up. I've been part of successful teams where every single moment we were focused solely on winning, to the point that you were worried about getting enough sleep every night, hydrating every minute of the day, mentally preparing weeks in advance etc. At times you simply forgot to enjoy it and it is only now when you are finished that you realize those should have been the greatest times of your career. Our boys may never experience anything like this again, they need to enjoy it but without forgetting that there is a match to win.
Seán:
It must be a busy time personally for you, with your commitments to the Louth senior team also, but I would imagine that St Paul's is the focus foremost in your mind at this moment in time?
Martin:
The fact that Aidan manages Louth does allow me some freedom but to be honest I've never needed it. Louth train on separate nights and outside school hours so there is never a clash of interests, my commitment to both is unquestionable. I wouldn't be one for doing things half measures particularly when it comes to football. On the flip side of this my wife might not be the happiest when she has to babysit 7 evenings a week.
Seán:
In terms of football ability, there is no question that St Paul's have proven themselves to be second to none, one thing that is noticeable is the quick passing game that you play, is this something that you work on as in the semi final there was a fair bit of passing of the foot which was pleasing to watch, again, is this a conscious thing that you are focusing on?
Martin:
To be honest we put a lot of faith in the boys and we advocate that they play what they see in front of them. The semi-final opponents allowed us to play attacking football because they never played defensively, neither team sat sweepers back so we both moved the ball early and this led to an open game of football. In earlier rounds teams had slightly different tactics and this allowed for more ball being moved through the hands and not kicked away. We trust our lads to read a game and as I say play what they see.
Seán:
In the semi final against St McCartan's, St Paul's went ahead quite quickly and ruthlessly and apart from the last ten minutes of the first half where they took their foot of the pedal they were in full control. Is the St Paul's way of playing just go flat out for the scores and not really worry about the opposition, there seems to be an almost carefree style of play at times which is focused on quality, attacking football?
Martin:
You would think that but if a microphone had been attached to Raff (John Rafferty) or me you might get a slightly different picture to your story. At this age it is difficult to instil too many set rules or for want of a better term "systems of play" so we usually just tell our boys to go out and play. We are confident that our 6 defenders will break even with their opposing player; that our midfield will win us more than our fair share of possession and that our 6 forwards will outscore the opposition. We have total belief in our boys and it hasn't let us down just yet.
Seán:
The final will be a bittersweet occasion for Carrickcruppen ace Conor Boyle who was shown a red card in the semi final, can you comment on the incident? Was it a stamp, will the school be contesting the decision?
Martin:
I can comment on Conor as a player and as a person. You will have to travel a very long distance to find a more committed, dedicated and honest young man. His willingness to put the team before himself is exemplary and this was evident when he never made the starting 15 against the Abbey but yet when called upon in the closing stages he was outstanding. He worked harder than anyone before the semi and deservedly got the call to start. He had a job to do for us in that game and anyone who was at the match would have had him in the running for man of the match. If he misses the final Conor will be a massive loss for us.
Seán:
Did you get a chance to go to Dunmoyle last Saturday for the St Patrick's, Maghera and St Colman's, Newry replay? What do you make of the Maghera lads?
Martin:
No I never made it; I had to travel to Portlaois for a national league match. By all accounts it was an evenly matched contest but perhaps Maghera's superior firepower won them the game. If you were to start analyzing this Maghera team individually from their 3 colleges all-stars, then Gerard Bradley, young Glass etc they are quite a frightening prospect but like in every other game we will concentrate on ourselves and see where it takes us.
Seán:
Finally, if St Paul's won the MacRory cup, what would it do for the school's image/reputation, even though St Paul's are recognised as a great school, this would surely take their profile to a different level?
Martin:
What these boys have achieved so far has probably done all that it can to raise the school's profile, everywhere you turn people seem to be talking about them in some manner and it is great for the school that it is getting this recognition. Without doubt it will be fantastic for the school if these boys can be successful but for the boys themselves this is the opportunity of a lifetime. The chance to test themselves against what is perceived to be one of the strongest MacRory teams in recent years, they have very little to lose but a hell of a lot to take home.
More on this story:
Newry Times GAA Special: Four Carrickcruppen boys in St. Paul's MacRory Cup panel
Four Shane O'Neills boys in St. Paul's MacRory Cup panel
St. Paul's make history and march into MacRory Cup Final
Newry Times meets: St Paul's Captain Cairon O'Hanlon
St. Paul's High School are All Ireland Champions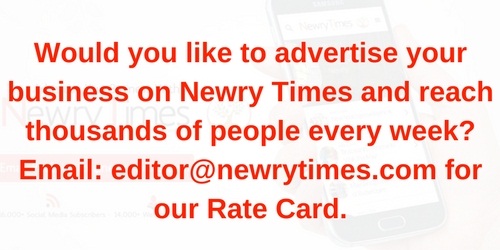 Both comments and pings are currently closed.