Malone's Ice Cream: 35 years in business and still going strong
Posted by
Emma Taylor
emma@newrytimes.com
Thursday, February 28th, 2013
Advertising Feature
,
Business
,
Featured Story
,
News
We all remember our childhood and hearing those iconic ice cream chimes, which signaled the arrival of the local ice cream man.
The nostalgia of buying a '99' ice cream with a flake, a screwball with a bubbly or a slush puppy is one of those enduring memories from a lot of our childhoods.
These were the times when a 'poke' was a mouth-watering ice cream and not some random function on Facebook.
In the 1970's there was around 25,000 ice cream vans throughout the UK and Ireland so getting your favourite whipped or hard ice cream was easy.
Today though, with the rising costs of fuel, sweets and ice cream as well as insurance, council licenses and tighter control on hygiene, the once thriving ice cream van industry is a shadow of its former self.
All is not lost though, as one local ice cream business has remained a constant in the Newry & Mourne area over the past 35 years: Malone's Ice Cream.
Gerald Malone of Malone's ice cream has been there during the heyday of ice cream vending and insists he will continue on regardless of the pressures the industry faces. Gerald needs no introduction; you will have seen him at Cranfield Beach or in the streets around Newry.
Speaking to Newry Times, Camlough born Gerald who now lives in Newry stated, "There has been some huge changes in the ice cream van business over this past 35 years, most of which have made the job harder in some respects.
"We now have to factor in rising diesel costs, an explosion in the price of buying ice cream and flakes, an annual council license, tax, PSV, public liability insurance and van insurance. It's fair to say that the job gets harder each year with these rises."
Moving with the times, Gerald has just launched a new website: Malone's Ice Cream as well as a new Twitter and Facebook account to keep his army of ice cream lovers up to date with the latest special offers, events and to let the public know where his ice cream vans will be going next.
Gerald says his decision for having an online presence is two-fold: to ensure his business can keep its fans up to date on everything ice cream related and secondly, to offer the ability for people to contact Malone's Ice Cream at the click of a button.
Gerald continued, "We had been flirting with the idea of having an online presence for a couple of months now so that we can widen our customer base and explore new avenues in terms of how we can offer an unrivaled service and make it as easy as possible for people to give us feedback, tips and keep in touch.
"We will now be able to Tweet information and pictures from wherever we are that day and share all our ice cream expertise and the latest 'scoop' with the local community on our Facebook page.
"It's really exciting and we're thrilled with how great and interactive the website is," he added.
As well as doing the traditional ice cream 'run' – visiting the streets and housing areas of the Newry and Mourne area, Malone's Ice Cream now also offer some fantastic packages for people who want an ice cream van at their special day.
Gerald explained, "We have covered many weddings, birthday parties, communions and confirmations in the past and over the last number of years these have grown massively in popularity.
"We're also now catering to corporate events, sports events like GAA football blitzes, school sports days, charity events, festivals and much more.
"Despite the weather, we try and work as much as possible so if you have a birthday party and it is raining, don't worry, we will still be there!"
To check out the new website for Malone's Ice Cream go to www.newryicecream.com or Facebook: http://www.facebook.com/NewryIceCreamCompany and Twitter: @MalonesIceCream
Call Gerald on 028 302 66262.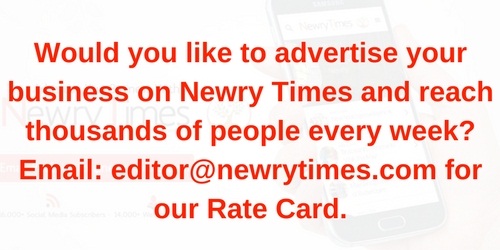 Both comments and pings are currently closed.