Narrow Water Bridge political debate rumbles on
Posted by
Newry Times News
info@newrytimes.com
Tuesday, December 4th, 2012
Community
,
News

Political leaders in Northern Ireland are once again at loggerheads over the application for the Narrow Water Bridge.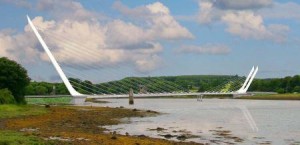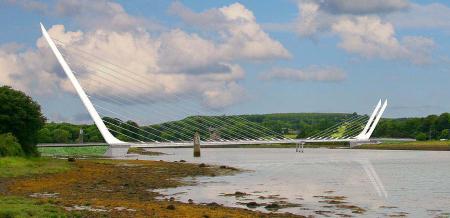 The political debate continued in Stormont today after Finance Minister Sammy Wilson of the DUP told the assembly he believed there was a 'political smell' about the bridge's application. Wilson's comments were made after the Assembly passed an SDLP motion calling for the Executive to make explicit its commitment to ensure that the remaining financial package for the bridge is put in place immediately.
After the motion was carried by 47 votes to 38, Wilson questioned the speed with which the SDLP's environment minister Alex Attwood granted planning permission for the bridge and called for an investigation into the planning process.
During a heated exchange between Attwood and Wilson, the SDLP representative rejected Wilson's comments and was asked to sit down by Roy Beggs, the deputy speaker of the Assembly. Earlier in the debate the SDLP insisted that the Narrow Water Bridge Project could become an icon for economic growth, in terms of tourism, infrastructure and strengthening relations north and south.
SDLP South Down MLA Karen McKevitt said earlier in the debate, "This is a genuinely symbolic cross-border project providing the first bridge linking Ireland North and South. "It makes the very best of good sense at every social and economic level and on every conceivable measure of community benefit. "And with the imaginative leadership and good management that we asked the Assembly to mandate, that benefit can ripple outwards to reach large parts of Northern Ireland. We asked this house to back not just a bridge but a vision. McKevitt continued, "Of course, bridges alone don't bring all that many people to an area – but that is where vision must come in." "And right at the heart of that new destination area we are to have something new, a connecting point,  a symbol, a pivot on which the whole area can turn. Our elegant new bridge at Narrow Water can become an icon and essential marketing image for this new destination." Local SDLP MLA Seán Rogers agreed. He added, "This project is about jobs and economic recovery. What a difference an investment of over 20million euro will make to South Down. This is a win-win for the construction, hospitality and retail sector in South Down and further afield. "We have already lost a generation to emigration, but the next generation will judge this Assembly harshly if they don't make this bridge a reality." SDLP South Down MP Margaret Ritchie said the welfare of the people of South Down was their number one priority, and reiterated her belief that the project will 'copper-fasten' economic opportunities for all of the people in this area. Ritchie stated, "Following the endorsement by the NI Assembly, and the good work which has been undertaken by the East Border Region Committee and Louth County Council, I now call on the Minister for Finance to provide the remainder of the funding to enable the construction and development of the bridge. "I have already written to the Minister asking him to provide the much needed match funding. The Northern Ireland Assembly has now spoken – the Minister should heed the will of the Assembly and act in a positive and constructive manner. She added, "Narrow Water Bridge will act as a pivotal catalyst for economic development, regeneration and make provision for enhanced tourism opportunities in South Down. Jobs will be provided in the construction of the bridge, and it will und