Cheaper by the dozen as Newry City Ladies romp to victory
Posted by
Newry Times News
marketing.newrytimes@gmail.com
Tuesday, May 29th, 2012
Sport
Newry City Ladies 12-0 Armagh City Ladies
Fresh from their 24-0 win last Friday Newry ladies approached Monday's cup game with Armagh in confident mood but also in the knowledge that their Armagh opponents have been playing 3 divisions above them. However, the league gap between the teams seemed to be on paper only as the Newry girls completely dominated this match from start to finish.  
Newry's first goal came early when Moya Feehan crossed to the near post where the ball hit off an Armagh player and though the 'keeper tried her best to keep the ball out, she could only present Ashleigh Dinsmore with a simple opportunity.
While Newry continued to create chance after chance with Moya Feehan, Aoife Lennon, Eireann McLoughlin and Aimee Mackin working hard up front Armagh were yet to get a shot at goal. Newry's second goal came from a penalty when a late challenge on Aimee Mackin gave Nicola Clements the chance to put herself on the score sheet on the half hour mark.  
Newry continued to attack with Dinsmore and Mackin to the fore. Indeed Dinsmore was desperately close with 2 headers, the first superbly turned away for a corner by the Armagh 'keeper and the second grazing the top of the cross bar.
The third goal finally came when Alex Hurst passed the ball to Clements who played a slide rule pass to Dinsmore who rounded the 'keeper with a ease and set up Mackin for a tidy finish.  Newry's back four, consisting of Martin, Reid, Clements and Hurst continued to stand strong and weren't for letting Armagh get one back, with Hurst making some superb tackles.
Aoife Lennon was then unlucky to get her first of the night when her header from a corner by Mackin hit the post. Lennon continued with her great work by then teeing up Mackin to cross the ball into the box for Feehan who slammed in another goal. And Newry's fifth soon followed when McLoughlin continued to do great work by helping Feehan round the full back  before cutting inside the box, beating two defenders before placing the ball into the bottom corner.
Armagh were then forced to make a change in nets when their 'keeper was unable to continue with an injury and to begin with Newry found it hard to test her with Armagh starting to find their feet. Lennon, McLoughlin and Feehan all continued to press but weren't able to finish,  a foul against Lennon resulting in a free which Lennon aimed for the top corner but alas the ball just wouldn't curl enough to go in.
After being denied a goal Lennon carried the ball up the field and passed to Feehan who flicked the ball back over to Lennon who headed it home again for a great finish. Armagh's woes were compounded as they continued to make problems for themselves, losing a player who saw a red card for dissent.
Keen to build on the great start to the season the Newry girls kept going and they scored again with more individual work by McLoughlin, cutting in past defenders at the front post to put it home again. This was soon followed by the next goal made this time by Mackin who played a neat ball into Clements who flicked it back down to Mackin, putting it past the 'keeper once again.
Dinsmore then scored her second of the night by skilfully taking the ball past the three defenders, leaving them chasing and while the 'keeper tried to stop her valiant effort was in vain as Dinsmore planted the ball into the back of the net.
At this stage the Newry ladies had got the goal tally up to nine but still weren't ready for stopping just yet, a deflected cross from Feehan landed to Lennon who drove in a beautiful ball for the 10th goal of the night. The relentless domination continued and when the ball was cleared from a corner another long range effort by Lennon curled into the top right hand corner of the net from a 25 yards out.
The last goal came from great work by Mackin, passing the ball onto Feehan who then placed Lennon in to knock in another for the final and 12th goal of the night.
This was great team performance from the Newry side who played great football throughout. Special mention must be made of stand in goalkeeper Marianne Marron who although was ably protected by her defence, was equally competent in everything she was called upon to do.
The ladies are proving to be a fantastic team working together both in defence and in attack. There were a few stand out players; Aoife Lennon, Moya Feehan, Eireann McLoughlin, Aimee Mackin, Alex Hurst and Julie Henderson who worked immensely hard throughout in centre midfield, though everyone stood up and was counted, playing with fight and passion.
Newry City Ladies team:
 Marianne Marron, Fiona Martin, Alex Hurst, Judith Reid, Nicola Clements (1), Eireann McLoughlin (1), Aoife Lennon (4), Julie Henderson, Aimee Mackin (2), Ashleigh Dinsmore (2), Moya  Feehan (2). Subs: Amy Kelly & Orla McKeown.
Newry
 Times
 Player of the Match:
Moya Feehan.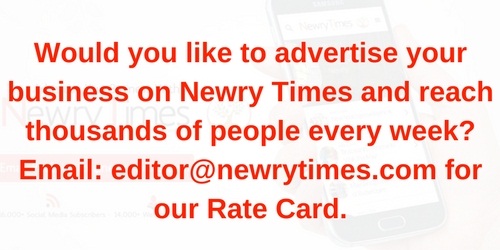 Both comments and pings are currently closed.