Newry City Ladies, Meet the Players: Moya Feehan
Posted by
Newry Times News
marketing.newrytimes@gmail.com
Saturday, May 26th, 2012
Sport
Moya, as well as being able to celebrate being part of a superb Newry side winning two trophies, Moya achieved two of her own; the Player's Player of the Year award and also the leading goalscorer prize. She is carrying on her goal-scoring ways, knocking in an impressive eight goals out of the first four league games this season. Moya is a very talented and key player for the ladies and has also represented the ladies as part of the Northern Ireland U-15 and U-17 teams. Newry Times recently caught up with Moya to find out a little more about her:

Name: Moya Feehan.
Age:
16.
Position:
Forward.
Previous clubs:
Bessbrook.
Greatest achievement so far in your career?
Captaining the winning UK Tesco Cup with the Newry Girls u14.
Best player you have played against?
Sarah Booth – Crusaders.
Best ground you have played in?
Reebok Stadium – Bolton.
Who is your sporting hero?
 Definitely Messi!
If you were to throw a party which celebrities or sports people would you ask around?
Mario Balotelli, Joey Barton, Robbie Savage.
What club would you like to play for in the future?
Arsenal Ladies! But I hope to make it to the Premier League with Newry someday!
What is one thing that you enjoy while playing football?
Being involved in a great passage of play that has an end result.. and winning of course.I know that's 2 but I thought I'd sneak a second one in.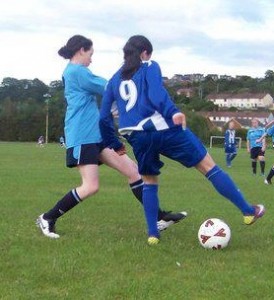 What inspires you to play football?
Watching World Cups & The Euro over the years makes me want to play in matches like that one day.
What is your least favourite training drill?
Any involving long distance running!
Who has been the biggest influence in your career so far?
It would have to be my Dad, Granda and Uncle James.
What brought you to play for Newry?
We made a Bessbrook girls team and started winning a lot of things and knew a move to start a Newry Girls team that was connected with a Senior Men's team, could only develop us further, and this has definitely been the case.
Who is the biggest joker in the team?
Aoife Lennon.
Which team mate has the biggest bag of toiletries?
Would have to say Aoife Lennon again!
Who is the best trainer at the club?
Lisa McCann.
Who is the best/worst dresser in the team?
We all have the same training gear which we wear to matches so we are all the best, there are no worst.
Who has the worst taste in music in the team?
Jamsey, he is always singing about some brown eyed girl.
And finally…What's your favourite thing about playing for Newry?
I love playing with the girls. They are all so talented and it's good craic and our small following are football crazy and very supportive.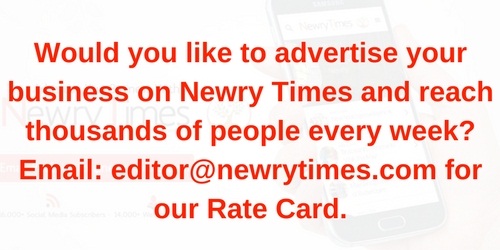 Both comments and pings are currently closed.