Local community gets set for Euro 2012 showdown: Part 1
Posted by
Newry Times News
info@newrytimes.com
Monday, May 21st, 2012
News
,
Sport
The last time the Republic of Ireland appeared in a major football competition the country was split between two fiery characters. The infamous bust up between Roy Keane and Mick McCarthy in South Korea and Japan in the 2002 World Cup created a sporting civil war, with family members fiercely debating about who they supported in the Saipan saga. Ireland bowed out in the second round after a heartbreaking penalty shootout against Spain and since then, fans have watched a major tournament pass by every two years without Irish representation. Ten long years have passed since the 2002 World Cup and finally now Ireland are back in a major tournament. Memories though of 2002 are etched on the minds of every local football fan. Pubs in Newry were packed to capacity, schools set up huge screens in assembly halls and the city was awash with green. Each nail-biting moment of the 2002 World Cup was treated as a party. Many local businesses even set up televisions in their premises so employees could watch each Ireland game and some lucky employees even got half days to enjoy the World Cup experience. Euro 2012 is almost upon us and excitement throughout Newry has reached fever-pitch. Whilst many of us are glued to our televisions, some lucky local fans will make the journey to Poland/Ukraine to cheer on the green army from close quarters. With less than three weeks until Ireland kick-off their campaign against Croatia on Sunday 10th June, over the next few days Newry Times will catch up with some local lads as they prepare for the journey of a lifetime. Until then, some local politicians have spoke to Newry Times about the biggest sporting event in Ireland since 2002. Sinn Fein Councillor Pat McGinn, a lifelong Celtic supporter, spoke about club and international football and his love for the beautiful game. "Whilst I have been a life long Celtic supporter and season ticket holder, I have for many decades harboured a 'soft spot' for Scottish Club side Queen of the South who two weeks ago were relegated to Division Two. Many moons ago I was steamed up in a pub in Jersey the Channel Islands and a lad had the local Dumfries newspaper in the Bar. Queen of the South were advertising for a manager and I along with another few "talented dribblers" sent a letter to the club applying for the job." Pat still feels he wasn't given proper consideration for the managerial role. He explained, "Not only did I not get the job, I didn't even get an acknowledgement of my application. However, I still each week look to see how the team nicknamed "The Doonhammers" did. Gus MacPherson their manager this year parted company with them two weeks ago so there is another vacancy, but I will let my dream to manage them, remain just  that." On the Euro 2012 tournament Pat hopes to see not only great football but also catch a glimpse of the famous 'Bessbrook on tour' tricolour flag – a flag that seems to pop up on television screens at every major tournament Republic of Ireland are involved in. He continued, "The Euros, like the Olympics coming shortly after, gives people and communities a bit of interest, a bit of a lift, something to talk about and discuss. I often say that many an All Ireland or Armagh Senior Championship was won in Toals Bar, Camloch late on a Saturday night, so no doubt barmen, taxi drivers, wives will have their fair share of listening to the "experts". I hope the craic is good whether you're watching it at home or over there and that England and their supporters get out of the competition what they desreve (skilled politicians double speak)." He added, "I intend forming a Queen of the South supporters Club for next season. The AGM will be held at the Telephone Box in Camloch and all are welcome. Please ensure to take a torch and toilet roll with you to the meeting, the torch to guide in the spaceships that will be dropping off Queen of the South supporters and the toilet roll, well I'll leave that up to you to work out."
Wells expressed his concern about a controversial loophole in cross-border international rules, which has allowed the Republic of Ireland to use players born in Northern Ireland. The loophole has seen players such as Dan Devine, Darron Gibson, Shane Duffy, Marc Wilson, Daniel Kearns and Paul George make the switch.
Wells said, "I am however very concerned that soccer players who were nurtured by the IFA in Northern Ireland have been recruited by the Republic. This seems totally unfair. I hope that Northern Ireland will soon qualify for the finals of a major tournament and play as well as they did in the World Cup finals in 1958 and 1982." Tomorrow on Newry Times: Part 2 of our countdown for the Euro 2012 Championship. Newry Times speaks to some Irish fans who are getting ready to travel to Poland and Ukraine.
DUP South Down Assemblyman Jim Wells – who is a fan of Northern Ireland – is not so keen on the finals. Speaking to Newry Times, Wells stated, "I support Northern Ireland. As the Republic of Ireland is a sovereign nation with its own football team I have no real interest in how it performs."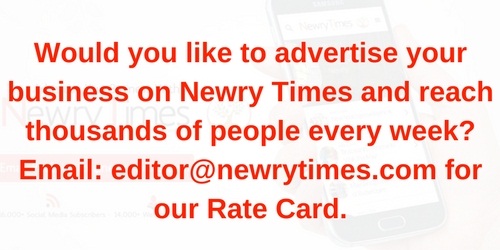 Both comments and pings are currently closed.