Newry film maker takes part in RTE Storyland competition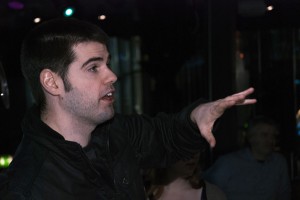 The first episode of the online drama/comedy series Trouble Times Three was released online on the 13th February. Scott, a 30 year old, Jack-the-lad has his life thrown into chaos when he wakes up to every guy's nightmare: In the space of one day, three women he's been with tell him they're pregnant. This compelling drama series was written by Declan Reynolds and Newry man Eoin Cleland and is commissioned by RTÉ for their Storyland competition.
Directed by our own Eoin Cleland, Trouble Times Three is one of eight entries. The competition begins with eight pilot episodes all of which were released online on the 13th of February. The Trouble Times Three team are relying on online votes to progress to the next round, where they are commissioned to produce another episode. There are four rounds in total and then the overall winner will be decided. To make sure this talented crew get through to the next round, log onto www.rte.ie/storyland and cast your vote, you have until Sunday, 19th February to make your voice heard.
Produced by John McKeown and Jessica Duggan from Sixsem Production Company, the web episode filmed in Monaghan town. The web episode begins to tell the tale of a love rat and his female acquaintances who each have some shocking news for him.
The plot revolves around 30 year old Scott who leads a frivolous lifestyle. He is jobless but quite content to collect his social welfare every week, party hard and be involved with as many women as he desires. We meet him when his carefree, pleasure-filled life is thrown into chaos. The three girls he had been seeing each tell him in the one week that they are pregnant. We meet Scott as he tries to come to terms with the impossible situation he finds himself in. The series stars Declan Reynolds (Lose The Booze) as Scott, Gemma-Leah Devereux (Marú, Wedding Planners) as the Emmalina, Audrey Hamilton as Katie and Michelle Beamish (Seacht, An Crisis) as Olivia.
For behind the scenes content check out www.facebook.com/RTE.TroubleTimesThree
To learn more and cast your vote – log on to www.rte.ie/storyland now!
Short URL: https://newrytimes.com/?p=6111
Posted by
Declan McAteer
on Feb 17 2012. Filed under
Entertainment
. You can follow any responses to this entry through the
RSS 2.0
. You can leave a response or trackback to this entry