Latest job opportunities with Netwatch, Newry
Posted by
Newry Times News
info@newrytimes.com
Monday, April 13th, 2015
Advertising Feature
,
Community
,
Featured Story
,
Jobs & Careers
Global Risk Management company 'Netwatch Ireland' has set up a remote monitoring and disaster recovery Hub in Newry which will create 15 immediate jobs, rising to 50 over the next three years.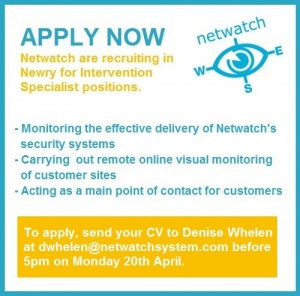 Netwatch specialises in providing business continuity, risk management and security services to clients across the globe. The new monitoring and disaster recovery Hub will deploy the most advanced protection technologies to protect individuals, assets and premises across the world. Applications are now open for the first Intervention Specialist positions. The successful applicants will be responsible for – • monitoring the effective delivery of Netwatch's security systems across a global customer base • carrying out remote online visual monitoring of customer sites • acting as a main point of contact for customer • responding to inbound telephone calls and make outbound calls as required. To be considered for this role, you must have: – Demonstrable experience of delivering a high level of customer service and building and maintaining strong working relationships – Previous experience of using management information systems and / or competent in the use of MS Office – The ability to adapt, learn quickly and work precisely and effectively under pressure in a high volume, high stakes and fast paced team environment – The ability to exercise good judgment in emergency conditions and act on own initiative – At a minimum, GCSEs in English and Maths at grade C or above / leaving certificate or equivalent Candidates should note that shift working patterns will apply. Full time day employees will work 4 days on, then 4 days off on a cyclical basis and standard shifts for days are 7am-7pm. Full time night employees will work 4 nights on, then 4 nights off on a cyclical basis and standard shifts for nights are 7pm-7am. There are also part-time day, evening and weekend vacancies available for successful candidates. Netwatch are an equal opportunities employer and welcomes applications from all sections of the community. To apply send your CV to Denise Whelan at dwhelan@netwatchsystem.com before 5pm on Monday, 20th April 2015.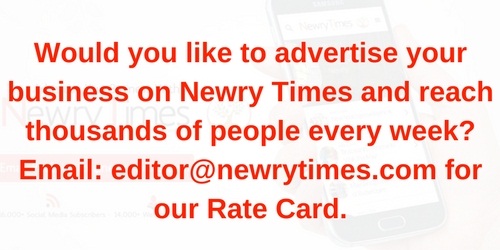 Both comments and pings are currently closed.