Newry Times meets: Carrickcruppen footballer and Craobh Rua Camlocha hurler Fiachra Bradley
Posted by
Newry Times News
marketing.newrytimes@gmail.com
Wednesday, March 6th, 2013
Featured Story
,
Sport
Cut Fiachra Bradley and the GAA will flow out of him before blood will. The young Bessbook man has been playing at the very highest standard in both hurling and football for his club's Craobh Rua Camlocha (hurling) and Carrickcruppen (football) and is also an integral part of the Armagh senior hurling panel. He took time out of his hectic training schedule and studies to speak with Seán Ó Sirideán.
Seán:
Not everyone might know that you are a dual player, lining out for Carrickcruppen senior football team and the Craobh Rua hurling club and of course, Armagh seniors. Does the added amount of games that this entails take an added toll on you physically?
Fiachra
: It can be quite demanding though it's really a matter of looking after yourself and if there's a string of games in a row you need to assess things at the end of each one and take it from there. At times there may be a hurling match on a Tuesday night, a football game on Wednesday and another on a Friday. Obviously collective training takes a backseat in those weeks and it's better to just use the gym and do the recovery work. Over the course of the season it doesn't be too bad as my main focus from December to May/June is the county set-up. I let the managers at 'Cruppen and Craobh Rua know where I can fit in between times and get to training with the rest of the squad. It's really about good communication with the managers and when they see that they are happy that you're putting the effort in. April can be a busy enough month with the hurling and football league starting back, although the county usually takes a few weeks off which helps us put in a few games in for the club. During championship time the games are normally spread out with a week in between and the toughest task is getting the fixtures arranged so no overlap occurs and all your energy can be put into each game.
Seán:
Have you found it tough to juggle your studies on top of your club and inter-county commitments?
Fiachra:
At the minute I'm up in Jordanstown doing a degree in sports studies and at times it does get quite tough with all the other commitments around that. With the club I have moved to coach under 12s this year, having taken the under 10s for the last four years. I train one night with the club seniors and we have county training or matches on three nights of the week as well. This year I have taken on the role of coaching officer in the club and that means I'm dealing with each manager and helping organise training/match schedules, coaching resources and coaching courses etc. On Mondays there are a number of lads that come down the road from Belfast to coach under 10s, which shows the level of commitment there is. We have quite a few parents involved in helping out, so there's a good underage structure taking shape after the last three or four years of hard work in this area. This year sees us starting an under 6 section for the first time ever on Saturday mornings, so the future is looking very bright. It is a lot of commitment and can be tough to juggle, though there is a strong network there of coaches and that gives me room to focus on the books if needs be.
Seán:
Your ability to win a lot of breaking balls in the hurling code have been particularly impressive this past few years. Is that something you can practice or is it just a natural instinct?
Fiachra:
I think this is one of the few places that being smaller than most is an advantage! To win breaking ball is a mixture of both instinct and practice. You have to read the ball and move on time, so in the game it's best to go with your gut. The only way to sharpen up is to work on the touch so you can get the ball to hand as quick as possible and stay on the move so the ball can be worked out to teammates around. It really is the bread and butter of hurling so it is an area that it pays off to be astute
(or short)
in.
Seán:
Are you the kind of player who goes off by himself with a bag of footballs or Sliothar's to let off steam?
Fiachra:
It depends on what time of year it is I suppose! But for the most part I would kick a ball outside the house regularly or play wall ball with the Hurley and sliotar. It becomes quite obvious around my garden as to when the GAA calendar has kicked off in Armagh as five metre square of grass tends to turn to soil and the pebble dash that's left on the wall is knocked to the ground.
Seán:
Being from a predominantly footballing county which was so successful in the last 2 decades, do you sometimes feel that you are in the shade of the footballers in terms of coverage and recognition?
Fiachra:
I suppose hurling will always be in the shade of football in terms of coverage and that end of things, though that certainly doesn't stop any hurler getting their day in the sun in Armagh. When you achieve what you had set out to at the start of the year, any coverage or recognition that comes along with it is bonus territory. There is hurling all over Armagh and Ulster these days and it is in areas now that you would never have seen a young boy or girl walking round with a Hurley, something similar to Camloch 15 or 20 years ago. There aren't too many GAA games around Ulster where there isn't a young Hurler or Camog about the grounds. That used to just be a novelty for people going to Casement Park.
Seán:
Your club Craobh Rua has made incredible progress since its formation in 1991. You have an intimate connection with the club with your father Labhrás Ó Brolcháin being an instrumental founding member. What would you put the success of the club down to in an area steeped in football tradition?
Fiachra:
Since the start of the club I have witnessed and been part of many ups and downs in the club and like anything that will always be the way. It's too hard to pinpoint any exact reason as to how the progression has continued each year, though dedication and persistence have had their part to play. One of the key things that pushes us all on is looking back to where we have come from. The location of the pitch and when the roads surrounding used to be blocked or manned by check point, the pitch itself used to be vertical, (The toss of the coin deciding who played uphill or downhill!) and no changing or car parking facilities for the first 15 years or so. When we tell some of the younger members these things they can hardly believe it, and rightly so, as they now stand on a development worth around half a million pound and much more in unpaid voluntary work. The overall core reason though that the club has continued to grow is that there is a very strong will within the community around Camloch and Bessbrook to have hurling in the area. This has been well co-ordinated over the years to help drive the club in the upward direction over the last twenty odd years and is reflected by the rise in player numbers over the last number of years.
Seán:
How tough was it to take losing the club final last year with Craobh Rua after a replay?
Fiachra:
It's never easy to take in when you lose a final, especially when you look around and see the boys deflated and exhausted having come up short by just a point. Though for myself and a number of other lads this has maybe been one of the less damaging out of 5 final defeats we have suffered. We have been on teams over the years which have had nowhere near the potential and youth as we now have. We have added a number of strong minors into the squad now this year and there is no doubt that we have the tools to finish the job in the summer and establish ourselves at the next level over the next few years. For now though, it's just good to have Michael Doran and Ryan Lewis back healthy and playing, having missed the final through serious injuries.
Seán:
What are your aims for 2013?
Fiachra:
I have four main aims this year, with the first being to beat Meath in the Christy Ring first round. There is real belief there that we will do that and overturning them will open the door for anything to happen. For Craobh Rua it's all about the Junior championship and with 'Cruppen it's going one further and getting to the final this time around.
Seán:
Is it fair to say that Craobh Rua have a lot of work to do in the coming years to reach the club's true potential?
Fiachra:
Yes, it's fair to say and it's absolutely right as well. We are under no illusion of the work there is to be done to get this club to where it can be. We are also aware of the serious potential that is there and still to come from our young lads. It's going to take a group effort by all in the club to stick to the path we are on. Like everything there are ups and downs and we will need to continue to work together to maximize the resources we have and bring in more new members year on year.
Seán:
Your football club Carrickcruppen had a fantastic run in the Armagh Championship giving this year's All Ireland semi-finalists Crossmaglen a scare and running them very close, are you optimistic about the upcoming season for Carrickcruppen?
Fiachra:
Like all the lads I took great heart from competing with Cross for the majority of the match. It's good for our club as a whole to get our game up to that level and sustain it for the most part of the game. We've started back well this year at pre-season and the buzz, as always, at this time of year is good. While we have taken serious belief from that game, we also know that there's a long way to go to September. For now we are just working on the things in front of us and trying to learn from some of last years downfalls in order to raise the whole thing to another level.
Seán:
Being a local lad you must be looking forward to the prospect of playing Shane O'Neills in senior football now that they were promoted, nothing like a local derby?
Fiachra
: Like everyone in South Armagh I'll be looking forward to this one. The Shanes' are getting their rewards for their hard work over the last ten years or more and having been talking to some of their boys they don't intend on stopping anytime soon. I suppose at the end of the day either club would rather lose this one and stay in division one if they had the choice given how competitive the league is looking to be this year. However, that won't stop this one being a great game between two quality sides.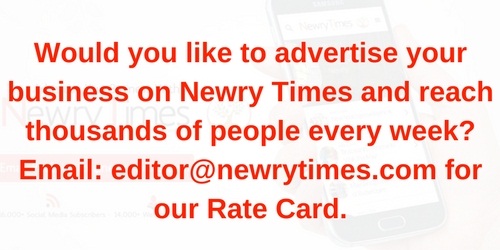 Both comments and pings are currently closed.