'Increased dialogue with Unionist community the way forward' – Kearney

Posted by
Newry Times News
info@newrytimes.com
Wednesday, July 11th, 2012
Politics
Sinn Féin National Chairperson Declan Kearney has delivered a lecture on the theme of 'Reconciliation' in Darkley House, South Armagh as part of the Darkley House Festival Week.
In the course of his wide ranging speech Mr Kearney acknowledged the enormous hurt on all sides caused by the conflict, including in south Armagh. The Sinn Féin Chairperson also called on unionist political leaders to engage fully in the process of building reconciliation, stating that Sinn Féin wanted an increased dialogue with the wider Protestant and Unionist community.
Opening his speech Declan told those present, "Mention of Darkley for many immediately evokes memories of the killings at Mountain Lodge Gospel Hall, not far from here. That terrible event scarred our whole society, but also left a huge burden of pain within that small congregation which was attacked, and the broader community to which it belonged. The legacy of the Mountain Lodge Gospel Hall killings is part of a legacy we all now share."
Outlining the vision and hope shared by Martin McGuinness and the Sinn Fein leadership for an authentic reconciliation process across the island, he said, "The reality is that our communities and country continues to be blighted by deep divisions, hurt and fear. The war and conflict in our society were created and perpetuated by historic and systematic political and economic injustices."
"But while the conditions of conflict have been addressed the legacy of division, hurt and fear caused to all sides has the potential to be passed on from one generation to the next – unless we collectively decide to stop that trans generational cycle beginning. We cannot undo the past, nor can we, or, should we forget. But we should not allow the past to place a brake on our future."
Declan stated that Sinn Fein wanted to see political unionism play a full part also. "Courage, confidence, leadership and vision from us all will be necessary to open up this new phase; to open out the dialogue; to take a lead in stretching out the hand of real friendship; and, slowly, ever slowly creating trust. Some unionists seek to undermine these discussions by misrepresenting republican sincerity as a devious trap. They are utterly disingenuous: the only mind games being played out are in their own heads."
"Unionist political leaders have a very important contribution to make to the pursuit of reconciliation. I understand that they may harbour doubts and suspicions, or even fears, about the challenges and risks we all face in building reconciliation and trust. If that is so, then let's discuss how these suspicions or fears can be addressed. None of us should fear reconciliation or equality. Instead we should try to build common ground."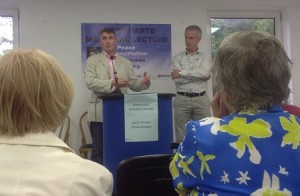 He described Martin McGuinness meeting the Queen as "one of those Mandela Moments" explaining, "Nelson Mandela said it well; "I learned that courage was not the absence of fear, but the triumph over it. The brave man is not he who does not feel afraid, but he who conquers it."
Concluding his lecture the Sinn Fein Chairperson said,
"Our peace process is unstoppable, and this next phase of reconciliation, building trust and making friends is inevitable. How long that will take depends upon how quickly it takes us to collectively agree, to inspire more "Mandela Moments", and to start thinking really big about the future. The greatest moral and political challenge facing our generations on this island is to ensure our children and the next generation grow up in a better place than we did; to have the choice of living in a place free from fear, division and hurt; and, to live in a society which prizes economic equality, social justice, and celebrates difference, diversity and mutual respect."
Sinn Féin Newry and Mourne Councillor Pat McGinn, who attended the event, said that he like most of those present had found Declan's words honest, and challenging.
The Fews area elected representative commented,
"As Declan stated, the pursuit of authentic reconciliation, north and south, is bigger than all of us, and cannot be the property of any one Party or community." Echoing his colleagues sentiments on those Unionists who misrepresent the sincerity of Republicans he said, "There is nothing meaningless about the journey of healing, recovery and reconciliation. The current stance of "Contempt prior to investigation" adapted by some deeply saddens me and those who wish to extend the hand of friendship to all."
"However on a more positive note the process and actions initiated by the Sinn Fein leadership have in my view been accepted by most in the spirit that they have been given, that is with an open heart and an open mind."
Would you like to advertise your business on Newry Times and reach thousands of people every day? Contact the Newry Times office on 028 4062 6520 or email Paul: editor@newrytimes.com
Both comments and pings are currently closed.