UUP stage leadership debate ahead of election
Posted by
Declan McAteer
declan@newrytimes.com
Friday, March 30th, 2012
Politics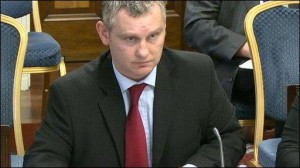 South Down MLA John McCallister held a debate with his opponent for the UUP leadership this week. McCallister met with Strangford MLA Mike Nesbitt in Derry, where a debate was held in front of UUP party members. Mike Nesbitt spoke of the need for change, as well as the need for co-operation at Stormont, "When I went out to get 35 signatures, as you have to do to be nominated, I ended up with 94 and those 94 were spread all across the province, across the alleged factions, east and west. This is the party saying it is time to change. Let's do it positively, let's embrace it and forget the last 14 years. The agony of the price we paid for the Good Friday Agreement is over and now we can move forward." "I think if you look at how people voted in the last election they want people to get on and co-operate and start delivering up at Stormont. So I think we have to be humble enough, having fought a rather negative campaign, to take that message," Nesbitt added. Local candidate John McCallister spoke of the need for opposition at Stormont, "This is a sensible move to give the Ulster Unionist Party time to rebuild, reconnect and refocus its energies on getting back into government. All democratic systems have a government and an opposition. It is a normal healthy part as we progress to a more normal society." He added, "We will go into opposition, oppose the government where we think they are wrong, support them if we think they are right and set a clear, distinct alternative to offer the electorate at the next Assembly election. I would love more meetings like this because I think it's good for firing up the party faithful. It's been good getting out and having the debate with Mike." The party will hold an election on their new party leader on Saturday.
Would you like to advertise your business on Newry Times and reach thousands of people every day? Contact the Newry Times office on 028 4062 6520 or email Paul: editor@newrytimes.com
Both comments and pings are currently closed.