Killeavy GAA, club news and events – 26th February
Posted by
Declan McAteer
declan@newrytimes.com
Sunday, February 26th, 2012
GAA Club News and Events
Killeavy Win Best Club in Scor!!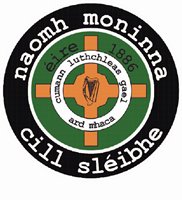 On Saturday night Killeavy took home three titles from the County Final which was held in Clann Eireann, Lurgan. The Rince Foirne, (Ceili) Amhranaiocht Aonair- (Solo SInging) and the Rince Seit (Set dancing) were all successfully lifted. To top it off Killeavy was named club of the year on the night,and Paddy Mee gleefully accepted the award on behalf of our competitors. The winners are now through to the Ulster Semi-Final which will be held on Saturday 3rd March in Stradone Community Hall, Co. Cavan at 7:30pm. All support would be greatly appreciated on the night. There will be a bus leaving from the club next Saturday at 5pm. Anyone who would like to attend please leave a comment on our facebook page. Very well done to everyone involved, and what a great start to the season for the club. The set dancing team are: Damian McKevitt, Neil Loughran, Paddy Mee, Brendan + Kevin Bell. Jamie Larkin, Ciara Bell, Philomena Carroll and Dena Barry. The ceili dancing team are: Niamh Downey, Una Hollywood, Emma Quinn, Aislinn Downey, Emma Black, Philomena Carroll, Niamh Moan and Laura Morgan. Anne McCormick was our winner in the solo singing division.
Killeavy Ladies Lift Sevens Shield
Congratulations to Killeavy ladies on an impressive day's football at Crossmaglen 7's winning the shield final beating Ballyhegan, Crossmaglen, Glenally and Strabane along the way. Well done to Carmel Mallon, Sinead Mallon, Marianne Kernan, Annemarie Murtagh, Sharon Reel, Faye Toner, Shauna Bennett, Laura Murphy, Aileen Matthews, Nicola Cromie, Frances Quinn and Sinead Reel. This is a nice reward for the very early start to training this season and is hopefully the start of a very good year for our Ladies.
Schools Footballers Making Their Mark
Well done to St Pauls squad members, Michael Murphy, Ciaran O'Hanlon(2 points) and Jamie Cosgrove who helped St Pauls to the McLarnon Cup final for the second year in a row, with a commanding 1-13 to 1-6 victory over St Louis Ballymena. St Colmans players Niall Hollywood and Kealan O'Hare were less fortunate, losing out to St Pats Maghera by two points in the McCrory Cup semi final. Killeavy definitely back in the Big League A few weeks ago we reported that Killeavy were being provisionally placed in Division 1 of Armagh's three division restructured leagues. This placing has now been confirmed and we await the announcement of this season's fixtures with our first league game likely to be on Sunday 1st April.
Membership Matters
Membership is now due and Club registrar Seamus Campbell will be in the Social club on Sunday evenings to accept fees for 2012. Should Seamus not be available, fees can be left in a special box behind the bar. Membership rates are as follows:
Adult Membership £30
Juvenile Membership (under 18) £10
Family Membership £60
Club Killeavy Membership £20 per month We would ask all our members to consider joining Club Killeavy. This covers membership for all the family (worth £60), gives free admittance to all senior home league games (worth £132), a weekly entry in the Killeavy Lotto (worth £52) and a Club Killeavy jacket (£50). More especially, Club Killeavy is providing vital development funds which have already allowed the club to build a new training field and will soon be used to develop new changing rooms and other improvements to our Memorial Park grounds.
Féile
Killeavy will be at home against Pearse Og this weekend coming in the prestigious Feile na nOg tournament. The same two teams met in the u12 championship two years ago with Ogs edging home by a point after a wonderful contest. Hopefully home advantage will give Killeavy the edge this time. The winners of the match will travel to the winners of Tullysaran/Mullaghbawn in the second round.
Killeavy's Big Breakfast 17th March 2012
Start St. Patrick's Day with a big breakfast served up by our senior footballers. Tickets £5 – available from any member of the panel. • Commiserations to Dervla Magennis who was denied progress in the battle round of RTE's The Voice of Ireland. Disappointment this time but we are sure to see much more of Dervla on our screens in the years ahead. • Monthly hurling/camogie meeting on Monday 27th at 8.00pm. All welcome. • Indoor hurling for P1 and P2 boys and girls starts on Saturday mornings at 11.00am in the Youth Academy. All welcome. • Anyone interested in playing u12 and/or u14 Ladies football this year should come to a meeting at the club at 6.00pm on Monday 27th evening. We need to see how many players there are to determine whether we will be entering a team in this year's leagues. We will also urgently need adults, particularly ladies, to come forward to offer help with these teams if they are to go ahead. • u10, u12 and