Newry Style City – The Story

Posted by
Emma Taylor
emma@newrytimes.com
Friday, February 24th, 2012
Features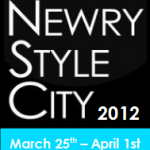 I was very excited to recently get together with Orla Jackson, one of the key committee members, tasked with organising Newry Style City 2012, which returns again this March  after the massive success of its first outing in 2011.
Orla explained that the idea for Newry Style City came about in January 2011, when feeling the economic pinch, the Newry Chamber of Commerce got together with the local retailers to brainstorm ideas to generate interest in the city. It was from these brainstorming sessions that Newry Style City was born; an event that was designed to stimulate economic activity and also create a good news story for the city.
The committee wanted to draw inspiration from the success experienced by the Belfast Fashion Week by hiring the agency behind that event to help create the fashion show element of the style city event and give it serious credibility as a fashion event. They wanted to ensure that Newry Style City had the creative flair and authenticity of a high end, well orchestrated fashion week.
The Newry Style City 2011 most notable events were of course the fashion show which opened the weeks festivities and the 'Newry's Most Stylish'; which was the event that closed the Newry Style City. Orla explained that 'Newrys Most Stylish' was initially launched with an air of trepidation, "Nothing like it had ever been done before, we were uncertain what response it was going to get."  However, their worries were soon eased as it was a resounding success. Orla continued, "It was a great nights craic, there was a young and vibrant crowd of three hundred and it was hosted by an energetic and lively DJ Conor Philips."
Following the success of last year, the fashionista's of Newry have undoubtedly breathed a collective sigh of relief after hearing that the event is returning bigger and better this year, with the date of the event confirmed as March 25th to April 1st 2012.  The week will see the return of the popular Fashion Show and 'Newry's Most Stylish' and Orla added that the cost of the events will not be increasing in price this year, so it will be a very affordable event that all can attend.
This year also sees the introduction of the Speed Style Event for both men and women. It is designed to provide fashion, beauty and hair advice catered to each individual who attends and for a fraction of the cost that this kind of advice would usually command.  The event location – which is not yet confirmed – will be a must for anyone looking for great advice and a great night out as it will be hosted with canapés and cocktails.
It is also important to mention that there will be a series of fringe events happening throughout the week at different locations throughout the city. There is bound to be something that caters for you whatever you taste is. Orla recommended that anyone interested in what is going on throughout the week to follow the Facebook page http://www.facebook.com/NewryStyleCityWeek
Would you like to advertise your business on Newry Times and reach thousands of people every day? Contact the Newry Times office on 028 4062 6520 or email Paul: editor@newrytimes.com
Both comments and pings are currently closed.