Newry's Lost Generation, with Paul Rocks

Posted by
Declan McAteer
declan@newrytimes.com
Sunday, February 19th, 2012
Features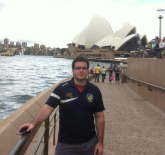 Name: Paul Rocks
Age: 24
Education/experience (i.e. do you have a degree /trade/skills or career background): BSc Hons Architectural Technology & Management
What part of Newry are you from: Dromintee, South Armagh
When did you leave Newry: 6th March 2011
Why did you leave Newry (no jobs, wanted to travel, bored etc.): I always wanted to travel and with bad work prospects for graduate architects I decided to head to Australia for a change of scenery and new opportunities
Who did you go with (friends, family): I went with friends and since I have landed more and more are arriving every week from home
What are you doing now, in wherever you are living, are you working: I am currently living in Perth WA. I am working as a soil technician, studying soil mechanics for one of WA's biggest geotechnical material testing services, doing FIFO (fly in, fly out) work in the mines up north
Are you enjoying life away from Newry: Yes, the weather is a major factor and there is a lot more to do here than at home i.e. BBQ's with beers and going to the beach, and with so many local people in Perth, it's like a home away from home
What do you miss most about Newry: Family, GAA, a good session with my mates, and the local take-away, La Dolce Vita & Friar Tucks
When will you return to Newry, or if you don't know, then when would you like to eventually return: Not sure, I have no plan. At the minute I am just enjoying being in a different country with a good job. I will probably return to Newry when there are better job opportunities
Career ambition (perfect job): Ideally to get an architect job in the Newry & Mourne area
What would you say to anybody still living in Newry who can't find work: Don't be afraid to take a chance, if you always wanted to travel then there is no better time than the present, with the shortage of jobs in the area. It's a good opportunity to see the world and experience different cultures. And as they say, travel broadens the mind.
Anything else you would like to add: If you are young and have no ties at home, then you have nothing to lose by going travelling and experiencing a new city and meeting new people (although you are bound to bump into one of your neighbours). And who knows, you may get a job.
Would you like to advertise your business on Newry Times and reach thousands of people every day? Contact the Newry Times office on 028 4062 6520 or email Paul: editor@newrytimes.com
Both comments and pings are currently closed.