Newry Mayor hosts Employing Ex Prisoners Event
Posted by
Newry Times News
info@newrytimes.com
Sunday, December 18th, 2011
News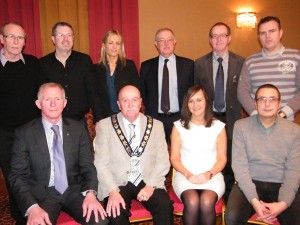 Mayor of Newry & Mourne Charlie Casey hosted an extremely successful breakfast seminar focusing on the employment of former political prisoners in the Canal Court Hotel on Wednesday 14th December. The event was organised by the Office of the First and deputy First Minister (OFMdFM) through Newry & Mourne District Council, supported by the local Coiste group, and was attended by republican and loyalist former prisoners, local employers, Newry Chamber of Commerce and Trade and local development agencies.
Speaking from the event Mayor Casey explained, "I wanted to host this event today as it resonates with me personally as a former political prisoner. Guidelines have been produced by OFMdFM for employers to adopt regarding the employment of former political prisoners. I am pleased to say the Newry & Mourne District Council recently passed a Sinn Féin motion to adopt these guidelines when recruiting staff and I hope to see many other employers doing the same following today's briefing."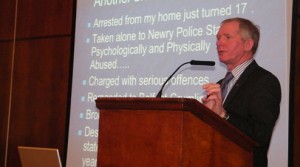 Presentations at the seminar were delivered by an OFMdFM representative who spoke about how the adoption of the guidelines benefitted not just local businesses and former political prisoners but the local community as a whole. Former republican prisoner, councillor Brendan Curran outlined the discrimination he faced following his arrest and sentencing in a diplock court aged 17 saying, "On my release there was no hope of employment, businesses simply didn't want the constant focus on them and harassment which I faced daily." This sentiment was echoed by loyalist ex prisoner Sammy, who explained the discrimination he faced in attempts to return to education.
Following the seminar, Thomas Marron, former political prisoner and project manager of the local ex prisoner group Iar Chimi Ard Mhacha Theas, welcomed the fact that this event took place and was very well attended by a broad range of employers in the private sector and the community and voluntary sector. "Coiste, the Republican ex prisoner network, has spent considerable time and energy lobbying employers to adopt the guidance and commit themselves to fair employment practices regarding former political prisoners. Only recently Newry and Mourne Council and the Southern Health and Social Care Trust agreed to adopt the guidance."
Thomas continued, " it is unacceptable that almost fourteen years since the signing of the Good Friday Agreement, former political prisoners, many of whom were released as part of that agreement, are still being discriminated against on a daily basis on issues such as international travel, adoption, home insurance and employment. This morning's event is an example of the work carried out by ex prisoner support groups in order to create awareness regarding this ongoing discrimination. The purpose of this event was to inform employers in the Newry and Mourne area of the OFMdFM 'Employers Guidance'."
He added, "While considerable progress has been made in ending discriminatory practices against former political prisoners, we believe that the best way to protect the rights of former political prisoners is to place the guidance on a statutory footing and make this type of discrimination illegal. Ultimately we continue to believe that the most conclusive way to end this type of discrimination is for the British Government to expunge these so called 'criminal records'."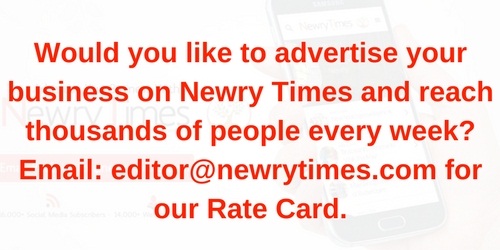 Both comments and pings are currently closed.