Burning passion that lights the way

Posted by
Newry Times News
info@newrytimes.com
Wednesday, November 30th, 2011
Community
What do you want to be when you grow up? Ask most children that question and the majority of them will say, "I want to be a fireman!"
Sitting around all day with your friends and then sliding down a pole into a big red truck with flashing blue lights. Sounds great right? But the reality is quite different to the childhood dreams and perceptions.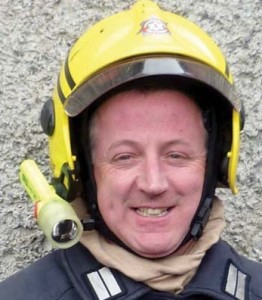 If we cast our minds back to September 11th 2001, there are some images which are etched indelibly into our minds; aeroplanes crashing into the World Trade Center, the twin towers collapsing, people jumping from windows to a certain death and of course the images of a city under the greatest terrorist attack it has ever experienced.
However, probably the most enduring image from that infamous day is that of the brave fire fighters. While many fled from the two buildings in a desperate bid for survival, groups of firemen defied rational thinking by running towards the danger.
Calm and collected, camera footage showed the brave men and women of the New York Fire Department rushing into the two huge sky scrapers.
Many of those men and women never came back out of the World Trade Center alive, with over 300 sacrificing their lives trying to save others. This is the reality of being a fireman.
One minute you could be dealing with a small fire or a hoax call, the next you could be at the top of smoke filled buildings at the centre of terrorist attacks, trying to remain composed enough to save people's lives.
The terrorist attacks on September 11th may be a dramatic example, but fire fighters throughout the world put their lives at risk daily, with very little appreciation.
The 'Troubles' in Northern Ireland for over 30 years from 1969 to 1998 also saw the Fire Brigade carry out operations similar to that of September 11th, with bombs and collapsed buildings a frequent sight.
More recently, the gorse fires that have engulfed Slieve Gullion and South Armagh are indicative of the major tasks fire fighters faces in their career. This is a job that personifies courage.
The Newry Times caught up with Gerry McMonagle, the Watch Commander for Crossmaglen. Gerry has been in the Fire and Rescue Service for 25 years and spoke us about his career:
Paul: Firstly, how long have you been in the Fire Brigade?
Gerry: I'm in the Fire Service 25 years now.
Paul: What made you choose this as a career path? Was it something you always wanted to do?
Gerry: It was a spare of the moment thing, I knew I wanted to help the community and with the encouragement of Eugene Donaghy I applied. Eugene's role in training as well as encouraging members of our brigade made Crossmaglen's fire service such a dedicated brigade. It is also a job that keeps me fit and active and helps those in need in the local community.
Paul: Do you find your job adventurous? If so, what makes it adventurous?
Gerry: Yes it is definitely adventurous. Every fire call we get we don't know what to expect. When we are en route we all expect the worst case scenario.
Paul: What does a typical day in the life of a fireman involve?
Gerry: Crossmaglen is manned by retained fire-fighters, who are available 24 hours a day, seven days a week. We are always ready to answer fire calls and it is a part time job. On a typical day we would go about our home and family routine as normal and then respond when necessary to fire calls.
We would then arrive at the station as quickly as possible and be briefed on what has happened. But when we are not fighting fires life goes on a normal, we set our days out no matter where we are so we can be ready quickly to respond to an emergency.
For example, my shoes and trousers will be ready and waiting beside my bed when I'm ready to go to sleep. Also, because we are working part time most of us have other jobs which we do daily too.
Paul: Your department must have be stretched to the limit with the gorse fires several months ago?
Gerry: It was disappointing that most of the fires were started deliberately. This is putting a huge strain on the Northern Ireland Fire and Rescue resources. Thankfully though, every call made to us was attended to.
Paul: Each call you get, you don't know what is in store for you. Do you be frightened in the job very often?
Gerry: Frightened? No. We put our lives at risk to save other people's lives and property. We don't know what to expect until we arrive on the scene. We do our job with dedication and professionalism and these high standards are a direct result of our training, which never stops.
Paul: What do you enjoy most about your job?
Gerry: I get great job satisfaction, especially when saving property which is on fire. Also, we have rescued people at road traffic collisions. When we meet the people out and about months or years later after they have recovered they're always full of gratitude. So job satisfaction and the team work are two of my favourite things.
Paul: Does your job often interfere with your personal life in ways that you wished that it didn't?
Gerry: Yes it definitely does. For instance, we may have planned to go away with our wives or friends for the day but when your alerter sounds you have to drop everything and forget about your plans for the day and attend the station immediately.
Our friends and wives understand when this happens. We have no regrets though; we are dedicated to our jobs.
Paul: Have you ever been injured on the job?
Gerry: Thankfully, no.
Paul: When things go right it must be such a rewarding job?
Gerry: Yes, I get great job satisfaction. It is very rewarding for me as watch commander to sit back and watch my crew carry out all their tasks with such great professionalism and responsibility.
Paul: What is the most difficult part of the job?
Gerry: Attending incidents where there is serious injury or loss of life is particularly challenging but all fire crews are close knit teams and this helps us deal with incidents.
Paul: Have you any advice to anyone interested in joining the Fire Brigade?
Gerry: I would definitely recommend a career in the Fire and Rescue Service. You get job satisfaction and constantly challenge yourself physically and mentally.
Paul: If you could describe your job in one word, what would that one word be?
Gerry: One word?  Rewarding!
Would you like to advertise your business on Newry Times and reach thousands of people every day? Contact the Newry Times office on 028 4062 6520 or email Paul: editor@newrytimes.com
Both comments and pings are currently closed.