Talented Dromintee girl on 'Write' path

Posted by
Newry Times News
info@newrytimes.com
Thursday, November 24th, 2011
Community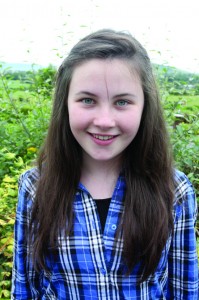 A talented 12 year old girl from Dromintee is making waves in her local community and school after writing various non-fiction stories. One story in particular – which Jennifer named 'The Cruel Ice' – was hailed as "unbelievable" by her English teacher in school. Speaking about her love of writing Jennifer said, "Ever since I was young, I loved to read. As far back as P4 I was always writing little poems or short stories in my notebooks. At primary school we always had to write a story at least once every two weeks, and I enjoyed it very much. I had always admired writers for creating stories and getting them published. Then I thought why don't I have a go?"
Jennifer's writing is not just confined to the perimeters of school as she explained to Newry Times, "I do write a lot outside school. Whenever I feel the urge to write and I have a good idea, I create a story. I enjoy writing stories for my little brother Ryan." However, Jennifer does admit that school work shaped her love of writing. She continued, "Well, at school the tests were coming up and for the English test we had to write a story. So as a practice for the test, we were told to create a story within the time of 30 minutes. The topic was a 'snowstorm' but you could go either way with it. The idea of my story came quickly to me. The story was the longest in the class."
Upon reading her story her teachers and friends were flabbergasted. Jennifer said, "They said it was very good, detailed and vivid. One of my best friends, Tara Clarke said "I can really see it well inside my head. I can see it happening." My teacher said it was 'unbelievable' and that I should be a writer. My primary school teacher said this too, when I was in P6. I was thrilled with these comments."
Jennifer's parents aren't writers so her passion and creativity for the English language is something that still confuses Jennifer. She continued, "I'm not quite sure. It was just something I was rather good at, something I found enjoyable and easy. The ideas were always jumping out at me; I wanted to put them on paper. I love weaving together a story. I love it when people enjoy reading my stories. It gives a very worthwhile feeling."
Writing to pass exams and school work is Jennifer's main focus at the moment but don't be surprised to see her name on the bookshelves in several years. She has several ideas on what a future career might be as she explains, "I hope to be a teacher, probably an English teacher. However, my goal is to be a writer. I hope to do it in my spare time, if I do become a teacher. I would love to have an occupation based around words."
The Dromintee girl added, "I just hope in the future that I would actually be lucky enough to get my very own book published.  And I am grateful to all those who have encouraged me in my writing."
Excerpt from Jennifer's story 'The Cruel Ice':
Abigail's hands shook. They were a sallow blue – all the heat was out of them. She tried her best to keep them still as she supped out of her tin cup. She gazed up at her sister, out of her fur hood. Skylar was looking at a map. It was a blank mat, nearly pure white. Sure, they were in the middle of Antarctica. They had not much hope of finding warmth and food, but Skylar wouldn't give up.
She looked at the compass beside the map. It pointed north, and they were heading west. They were going in the right direction. "Okay," said Skylar. "The nearest village is many many miles away; however, we may have other hope. Did you ever hear stories of the old
hermit who lived near the foot Usarp Mountains?" Abigail creased her forehead. "Well, yes… but what –"she was cut off by her sister." "Then why don't we just find him?" Skylar said in excitement.
"We are near to the feet of the Mountains… and it doesn't say in the stories that he is harmful… maybe just a little eccentric, that's all." "But Sky," began Abigail. "How do you even know he is real? After all, they were just stories." Then Skylar lost it. "Abigail, I don't care if he is real or not! Do you want to live? Do want to survive? Then this is our only hope, or we might as well just give up and freeze to death!"
Tears ran down Skylar's face. They slowly cascaded down her pale pink cheek and fell onto the snow. Abigail quivered. She hated her sister to be angry, but crying made it no better.
 "Sky…?" she said in a small voice. Skylar spoke through muffled sobs. "I'm fine… we just cannot give up… I promised mum I would look after you." "It's okay, Sky." comforted Abigail. "We will make it. We are strong, and we won't give up. I promise. Besides, I'm looking forward to hearing the hermit's side of the stories."
Would you like to advertise your business on Newry Times and reach thousands of people every day? Contact the Newry Times office on 028 4062 6520 or email Paul: editor@newrytimes.com
Both comments and pings are currently closed.